eBook Starter Affiliate Program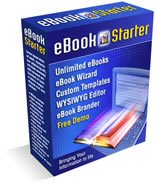 If you've been on the Internet for a while, you know the Internet has literally become the information super highway. Millions upon millions of people logon to the Internet each day in search of the information they desire -- not just any type of information -- they're searching for solutions! They want to improve their health, improve their love life, improve their finances -- the list goes on and on...

That's what makes informational products, such as ebooks, reports, etc., so appealing. They provide people with the information they desire, almost instantly, as they can be purchased and downloaded within a matter of minutes.

Not only are ebooks the perfect solution for Internet users, they are also the prefect online product for the Internet marketer. Information products are the most inexpensive products they can develop. Once they purchase an ebook compiler, they can create as many ebooks as they'd like and sell them an unlimited number of times with...

No inventory
No packaging charges
No shipping charges and
No hassle...
Information is the number one best-selling product on the Internet. There are literally hundreds of Internet entrepreneurs quietly making a fortune simply by selling information. How? By developing in-demand information products and delivering them instantly and automatically over the Internet.
HTML Compilers
As you probably know, there are many HTML compilers available on the Internet. HTML compilers are great and provide a wonderful solution for packaging HTML files. However, there's only one problem ... they are just that ... HTML compilers -- that's it! They will only compile files that you've already created within another program, such as an HTML editor.

What this means is that the user would need to create their pages within an HTML editor and then import them into an HTML compiler to create their ebook file.

What's more, If they don't know how to write HTML or create a web page, they're really left out in the cold. They can either hire someone to create their pages for them or use another format.

As if that isn't enough, even if they know some HTML, they still have to come up with a nice design, which can be a difficult task.

That's exactly why we developed eBook Starter...
What makes eBook Starter the superior choice for ebook creation?
eBook Starter is the first and only ebook software that is an actual WYSIWYG (What you see is what you get) ebook editor and HTML compiler -- all-in-one. This exceptional program stands head and shoulders above the rest, as it provides users with a complete ebook publishing solution that puts the power in their hands. They will have complete control over every aspect of their publishing needs.

No other HTML compiler on the market even compares with eBook Starter -- Guaranteed!

And that's exactly what makes eBook Starter so popular. Users want a complete and easy program they can use to create their ebooks. It's that simple.

Ebook Starter will enable anyone to create a professional looking ebook with absolutely no design experience. They can use our six step publishing wizard or simply create their ebooks using our easy to follow 'Help' files. However, most can figure the software out on their own -- it's that simple.

But, that's not all. eBook Starter provides users with a wide variety of professionally designed ebook templates that will give their ebooks the look and feel of a real book, notebook, manual or report.

Why should you join the eBook Starter affiliate program?
If you're looking for a quality product to recommend to your visitors, look no further than eBook Starter. It is the complete information publishing solution for online marketers.

This phenomenal program will literally sell itself...

Even if you already have your own product, why not add an additional stream of income to your web site? You can join eBook Starter's affiliate program completely free and earn a full 50% commission for each and every sale you make.

You simply drive traffic to your affiliate address and we'll do the rest.

In addition, you will be provided with all of the letters, articles, ads, images and banners you'll need to start making sales today. Your commissions will be paid directly to you from ClickBank. Make sure you visit ClickBank for further information in regard to the affiliate program.

Ready to sign up? Great! Looking forward to having you aboard! The sign up process is simple. Please follow the steps below:




Click Here to generate your affiliate code.




Click Here to visit the affiliate resource page.




Sign up for the free affiliate resource list to receive new articles and additional promotional resources as soon as they are released.

To your success!



Read our Anti-Spam Policy